Bearings Suppliers
Hide map

SKF Marine has a marine-dedicated engineering and technical team ready to work with you worldwide – for service, advice, maintenance and more. The business is complex enough. When you're ready to simplify, the name is SKF Marine. Services & Solutions ...
Read More...

Every industry has its unique challenges, but virtually all industries share the goals of increased machine uptime, reduced maintenance, improved safety, energy savings and lower Total Cost of Ownership.With expertise in a wide range of disciplines and de ...
Read More...

Kaman Specialty Bearings & Engineered Products has been designing, testing, and manufacturing the highest performing bearings, drive systems and operational critical parts in the industry, excelling under the most demanding conditions. Kaman Specialty ...
Read More...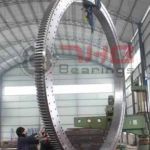 As the largest and heaviest slewing ring exported from China, the outer diameter is over 6000mm and the weight is over 13 metric tons.   The structure is triple row cylindrical roller type with external gear.   In order to have the best and stab ...
Read More...

Our company is parted from a well experienced staff with specific technical knowledge ready to face any query of any difficulty. Our company's privilege is that has a great variety of any product of our expertise and especially the bearing department. Our ...
Read More...

Trelleborg Sealing Solutions is a world leading manufacturer and supplier of bearings to the shipping and marine industries. Supported by an extensive global network of manufacturing plants, agents and distributors, Trelleborg Sealing Solutions are able ...
Read More...
SKF distributors of complete range SKF products, bearings, lubricants and maintenance tools. SKF Ball & Roller Bearings / SKF OK Couplings and Supergrip Bolts / SKF Linear Products/ SKF Condition Monitoring Instruments / SKF Maintenance Tools
Read More...

THB BEARINGS CO.,LTD can supply the following five typical types of slewing rings: 1.       single row slewing rings have a single row of balls, a standard bearing raceway, and four points of contact between the balls and rac ...
Read More...

  ABC Marine Services Ltd, is a new dynamic company with high potential in the field of Marine Spare Parts and Services and affiliate companies in Cyprus and other countries.  
Read More...
All types of unit blocks, oil seals, belts, o-rings, lubrication products, balls, bearing heaters.
Read More...

General machining operations with the manufacture   of spare parts, ship separators accessories, spare parts for agricultural machinery and in particular the construction of   parts and accessories for use by industry. Divis machinery, ...
Read More...

Shaft and rubber bearings, mechanical seals, packings and jointings, pumps and valves packings.
Read More...