GREECE-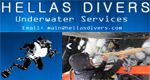 Divers underwater works. Divers Underwater works and repairs. Underwater searches cleaning and recoveries. Video inspection approved authorised by most Societies.
Read More...

GREECE-PIRAEUS
Tel:+30-2104060000-4617423
Production of Aluminiun and Zinc Polcor sacrificial anodes and Impressed Currrent Systems for the Cathodic Protection of ships. Also oil & hazardous substances spill response. Waste management & valorisation.Bilge oil-water separators POSEIDON 2000 oil c ...
Read More...

Greece's paradise sunshine place.The beautiful landscape of Sithonia is a combination of mountain and sea.All about the area of sithonia in halkidiki
Read More...