Rudder stock repairs

Hide map

Ships Repairs & services. Marine spares. By High skilled field service technicians can provide service you require for all types of ship's repairs in Greece and worldwide teams. Spare parts available for all types marine diesel engines. Appointed as t ...
Read More...

Ships Repairs and conversions.The Company has been established in 1969 with the express objective of providing specialist mechanical engineering services to shipping and to a wide range of industries. Privately owned 4 500sq.m. site located between Athen ...
Read More...

Ship Repairs & Services.Sepers Service is specialized in the maintenance repair building of new ships and installations and consultancy in the area of control pitch propellers and manoeuvring techniques.
Read More...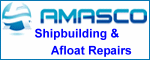 As a large and well established company in the Middle East, AMASCO enjoys a world class reputation for its standard of workmanship and reliability. The company was established in 1987, principally to perform the repair and maintenance work required on the ...
Read More...