Propellers repairs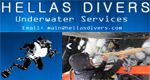 Divers underwater works. Divers Underwater works and repairs. Underwater searches cleaning and recoveries. Video inspection approved authorised by most Societies.
Read More...
DIVING STATUS is licensed and certified to perform commercial underwater and diving services including underwater ship Hull cleaning, propeller polishing, classification society approved in-water survey, underwater welding, coastal marine survey and civil ...
Read More...

PSOMAKARA Diving Services & Consulting Co was founded in 1992 in Greece. Consolidated in the field of underwater services thanks to the high quality of services offered.It has establishments in: Greece (Piraeus, Chios, Thessaloniki, Crete, Korintho ...
Read More...