Dubai

Dubai, UAE UNITED ARAB EMIRATES
Dry-docking for vessels up to 3000ton lightweight, 90m LOA in Dubai Maritime City. Voyage Repairs. Riding Crews worldwide. Hull Damage repairs - minor or extensive. Deck machinery, pipe work and valve repairs/renewals.
Read More...

DUBAI, UNITED ARAB EMIRATES (U.A.E.)
Ships repairs and services.Offshore services hull engine turbocharger and generator repairs heat exchangers electrical and automation workshop facilities boiler repairs diving services fire and safety services automation cranes.Branches at Fujairah Abu Dh ...
Read More...
Maritronics was born in 1980 from the tough Marine Electronics environment of the United Arab Emirates, far from the traditional Marine Electronics manufacturing nations. Powered by a team of factory trained engineers, backed by original spare parts inven ...
Read More...

Leading Ship Repair Company which prides in calling itself a ONE STOP SHOP for all ship repair needs of its customers. Kindly inform us if you would be needing our services in this call. For your information, our range of services are mentioned below, add ...
Read More...

For four decades, Elcome International has been providing world class sales and service support for leading customers in the maritime industry throughout the Arabian Gulf. We represent top international manufacturers and service providers of Airtime,&nbsp ...
Read More...

Dubai, UAE United Arab Emirates
Link Instrumentation and Control Services have the privilege to "exclusively" represent some of the most prestigious companies and brands in the field of Marine Automation.
Read More...

Dubai, UAE United Arab Emirates
Metromac is the pioneer name in marine automation field in Middle East. With the experience of more than three decades, Metromac is providing support to major shipping companies for most of the automation needs.
Read More...

Dubai, UNITED ARAB EMIRATES DUBAI
Ships Repairs & Services. Goltens is a service organization that enables ship owners and power plant operators all over the world to minimize asset downtime via diesel services, in-situ machining, and BWT system retrofits.
Read More...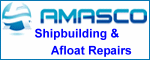 As a large and well established company in the Middle East, AMASCO enjoys a world class reputation for its standard of workmanship and reliability. The company was established in 1987, principally to perform the repair and maintenance work required on the ...
Read More...

Dubai, Jebel Ali, United Arab Emirates
INTERYARDS S.A. Representation of Ship's Repair
Read More...

Specialized team of engineers undertake wide variety of  jobs with complete range of compressors, condensers and is capable of  overhauling equipments from almost any manufacturers e.g. Carrier, Carlyle, York, Daikin, Stall etc etcA complete ran ...
Read More...