SULZER

A. Makarian Company, continues the project of "MERKOURIOS MAKARIAN S.A." who was the pioneer founder in 1960 in Greece upon fuel injection systems. From 2000 the company expanded to new owned facilities and continues through the 45 years of knowledge and ...
Read More...

Our company Omnis Marine, has partnered with Kormarine Services, representing the Group in Europe. We now provide technical services; certified technicians to perform any type of repairs, rebuilding, overhauling and other operations. Our Hyundai Heavy In ...
Read More...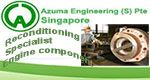 Qualified Recondition Repairer (ISO 9001:2000 since November 1998)Qualified marine diesel component repairer for:Piston crowns Cylinder covers Exhaust valve spindles Exhaust valve seats Exhaust housings etcCertified by:Our reconditioning and repairing tec ...
Read More...

Kenner-New Orleans, LA, United States
Gulf States Marine Technical Bureau, Inc. is owned and operated by a professional marine engineer. We employ people with extensive expertise in any type of repairs such as steel work, engine repairs, electric motor rewinding to take place aboard a vessel ...
Read More...