Mitsubishi

Adams Hydraulics is a company, which is active in the field of supply, as well as the Repair and Inspection of Hydraulic Systems (low and high pressure) for marine use. Our company is renowned for its large stock from well established companies of Hydrau ...
Read More...
Ship Repairs & Services Ship Spares Suppliers. With experience since 1975 in the turbochargers section and now under a new surname in our privately owned warehouse with all the necessary equipment our trained technicians can provide you with reli ...
Read More...

Our company Omnis Marine, has partnered with Kormarine Services, representing the Group in Europe. We now provide technical services; certified technicians to perform any type of repairs, rebuilding, overhauling and other operations. Our Hyundai Heavy In ...
Read More...
Ship repairs and services. Overhaul and servicing all types of turbochargers reconditioning of T/C bearings and lub oil pumps dynamic balancing of rotors turbine blades compleete range of spares for all major T/C types available on exchange basis. Authori ...
Read More...
Ship repairs and services.Diesel engines component reconditioning fuel injection equipment motor rewind and all low and medium voltage rotating equipment. In-situ machining line boring etc.Service/sales representation for: Wartsila Pielstick SKL Deutz Kob ...
Read More...

Morfi Hydraulics is a company which focuses on the area of industrial and marine hydraulics providing our customers with a wide range of services and spares.. Our company is active in plumbing repairs and spare parts business from 1985 and we are located ...
Read More...

Our company's business is customized electrical engineering, construction, overhaul and automation projects in the industrial as well as the marine sector since 1974.Our field of action also extends to the rewinding services provision of any type and size ...
Read More...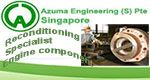 Qualified Recondition Repairer (ISO 9001:2000 since November 1998)Qualified marine diesel component repairer for:Piston crowns Cylinder covers Exhaust valve spindles Exhaust valve seats Exhaust housings etcCertified by:Our reconditioning and repairing tec ...
Read More...

Kenner-New Orleans, LA, United States
Gulf States Marine Technical Bureau, Inc. is owned and operated by a professional marine engineer. We employ people with extensive expertise in any type of repairs such as steel work, engine repairs, electric motor rewinding to take place aboard a vessel ...
Read More...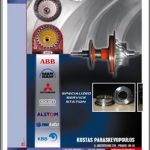 TURBOMARE's services include a wide range  of activities such as turbocharger overhauling and inspection, reblading of rotors, dynamic balancing, retro-fit, ultrasonic inspection, reconditioning of bearings and pumps and spare parts supply and replac ...
Read More...