USA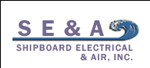 Shipboard Electrical & Air, Inc. (SE&A), is a "turnkey" Marine Electrical and HVAC Systems Contractor with its home office in Mobile Alabama. SE&A is staffed with an experienced team of marine professionals who make it a point to exceed th ...
Read More...

We've got the men, the equipment and the expertise for efficient (emergency) service on both diesel and steam powered ships. We have been in the business for over 55 years and are located in the heart of Los Angeles and Long Beach harbor. Dockside has a c ...
Read More...

Oceanwide Repair is the largest ship repair force in the Long Beach/Los Angeles Harbors. We offer a 24-hour Emergency Ship Repair Service to complete necessary repairs in the given time frame. All of our Supervision are ex- sea Marine Engineers holding Br ...
Read More...

We specialize in commercial marine vessel repair. Mobile topside and multiple shipyard locations provide flexibility in meeting customer repair requirements.
Read More...

We provide Industrial, Marine and Commercial businesses with the services of, but not limited to:Tank Cleaning, Mechanical Cleaning, Oil Flushing, Hydro Blasting & Pressure WashingAll work performed by WMC is to the highest of standards as per ISO 900 ...
Read More...

Ports Authority
Read More...