The Netherlands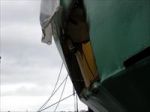 1042 AL Amsterdam, The Netherlands
We carry out repairs of small and large claims for local stevedoring companies, agencies and shipowners.This work includes:Fire and welding work on board shipsReplacement of piping and repairRepairs damage to both ship cranes and maintenanceConnecting anc ...
Read More...

Rotterrdam, Harbour Rotterrdam, The Netherlands
Due to the continuing demand for Ameron Glassfiber Epoxy Pipe systems (GRE) on sea-going vessels, Wetering Rotterdam is increasingly involved in prefabrication, installation and retrofitting jobs, often during vessels stay in port or even during sea voyag ...
Read More...

Rotterdam, Waalhaven, The Netherlands
Rotterdam Offshore Group has an open sea accessible, strategic and ISPS location in the main port of Rotterdam. There are lay-by facilities for (marine, sea-going and Jack Up) vessels up to 190 m length, 80 m breadth and 9.5 m draft. Rotterdam Offshore G ...
Read More...

* Pickling and passivation of cargo tanks - heating coils - piping systems* Polishing of cargo tanks (smooth surfaces)* Ferroxyl testing* Oxilyser passivity testing* Surface roughness testing* Inspection / quality control / supervisionOffices: Shanghai, C ...
Read More...