Dubai

Dubai, UAE UNITED ARAB EMIRATES
Dry-docking for vessels up to 3000ton lightweight, 90m LOA in Dubai Maritime City. Voyage Repairs. Riding Crews worldwide. Hull Damage repairs - minor or extensive. Deck machinery, pipe work and valve repairs/renewals.
Read More...

Leading Ship Repair Company which prides in calling itself a ONE STOP SHOP for all ship repair needs of its customers. Kindly inform us if you would be needing our services in this call. For your information, our range of services are mentioned below, add ...
Read More...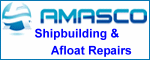 As a large and well established company in the Middle East, AMASCO enjoys a world class reputation for its standard of workmanship and reliability. The company was established in 1987, principally to perform the repair and maintenance work required on the ...
Read More...