Germany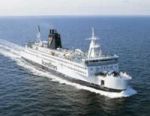 Scandlines operates in the triangle between Germany, Denmark and Sweden, as well as to the Baltic States and Finland.
Read More...

Karl Meyer Group belongs to the leading environmental and disposal service providers in Northern Germany.Core businesses are the following:Service offers range over the entire Northern European territory with a fleet of eight freighters. The vessels´carr ...
Read More...

Shipping Company Owners Management. As a traditionally family-run shipping company, our expertise combines management and chartering of vessels – one stop maritime services. Gerdes Bereederungs Gmbh & Co. KG Hermannstraße 1a 49733 Haren-Emmeln Ger ...
Read More...

AuctionCargo Ltd is one of the world leaders of freight auctions in internet. It´s an online market place for seafreight. Membership is free.
Read More...

GERMANY HAMBURG +49-40-3803910. Fax: +49-40-38039199
Shipbrokers.We are exclusive chartering managers for a fleet of 45 modern container vessels in size from 300 upto 2750 TEU resp. from 3.000 to 35.000 tdw.
Read More...