Interiors Furnitures
Hide map

RAILING - FENCING - STAIRCASE - FENCING - INOX RAILING - IRON RAILING - STAIRCASE
Read More...

ELVIK S.A., established in 1982, is the pioneer in incombustible materials (B-15 class) manufacturing in Greece, i.e. panels, doors, ceilings etc. These materials can be used for interior spaces and arrangements in vessels, according to SOLAS 1974 with la ...
Read More...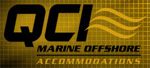 QCI Marine is an offshore accommodations company based on honesty and integrity. Specializing in turnkey construction and renovation of accommodations for the shipping and offshore oil and gas industries
Read More...
Joiner Systems designs, engineers and manufactures top quality accommodation systems for commercial and naval ships, expansion joints and dampers for environmental and industrial use, as well as a wide array of custom industrial products. The company, lo ...
Read More...

Thermax Marine supplies non-combustible raw marine boards and laminated marine boards used for joiner panels, wall systems, ceilings and fixtures. Our products are used by marine contractors and architects for marine vessels and offshore drill rigs. Therm ...
Read More...

Newcastle Upon Tyne, Tyne and Wear, United Kingdom
Solarglide supply approved, bespoke navigational safety products, such as anti glare solar screens, ship wipers and marine chemicals, to the maritime sector in over 100 countries.
Read More...

Hunan Forhome Composite Materials Co.,Ltd.is the manufacture of explosive cladding metals, and our triclad aluminum-aluminum-steel and aluminum-titanium-steel transition jointscan be used in your shipbuilding and repairing very well.
Read More...

WEISS HELLAS-INTERNA SA is specialized in the production of metal suspended ceiling systems, special ceiling constructions and high quality lighting fixtures, since 1986. The architectural design, the excellent technical performance and the unique adapta ...
Read More...

 DuPont brings science-powered Marine products and solutions to build, maintain, and refit all types of boats from Pleasure yachts to Superyachts, Cruise ships to Ferries. As a leading science company, DuPont brings together high performance, comfort and ...
Read More...

Manufactures Importer Pocarbonate. Plexiglass, Etalbond, P.V.C PETG
Read More...

Accomodation furniture, equipment and fittings.
Read More...
Accommodation furnitures, carpets, interior decorative applications. We are one of the leading European companies in the distribution of innovative materials for architecture and design and the equipment of high level projects, such as hotels, ships, yach ...
Read More...

DECON has expanded its field of activity and, depending on the client's needs, it can now undertake the design, management and execution of technical projects in their entirety, covering the full range of necessary actions.
Read More...

9721 TA Groningen, The Netherlands
THORMARINE is an independent company which is fully specialised in the engineering, production and delivery of watertight yacht doors and ship doors watertight hatches and marine windows. Our products are mainly used in yacht constructions, ship and boat ...
Read More...