Shanghai

Hongkou District, Shanghai, China
Navigation and Equipment Communication.SVDR VDR S-VDR radio arpa AIS Communication Navigation
Read More...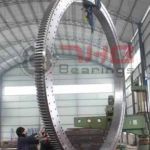 As the largest and heaviest slewing ring exported from China, the outer diameter is over 6000mm and the weight is over 13 metric tons.   The structure is triple row cylindrical roller type with external gear.   In order to have the best and stab ...
Read More...

Jinshan District, Shanghai, China
China Yaao Valve Company specializes in producing Forged Steel Gate Valve, Check Valve, Globe Valve, Forged Ball Valve, Pneumatic Valve Actuator & Valve Limited Switch with unique design features,  Yaoo forged valves comply with the API 602, CE, ...
Read More...

Baihe Town, Qingpu, Shanghai, China.
Metal Seated Valve,China Valve Manufacturer, Pipeline Valves,Armaturen,spencial alloy valve,oil and gas, Ball Valves, Butterfly Valve, Conventional Valve, Spencial Valves.
Read More...