Shanghai
Following service can be proceeded with our staff or managed by our professional team, at port/anchorage/shipyard in China. - Ship docking brokerage and agency - Overhauling and maintenance of main & auxiliary engine. - Ship repair-machinary,steel,pip ...
Read More...

Established in 1994 with the mission to offer the customer satisfaction by providing the value-added products and services to the world shipping market , Mariso has always been focued on the parts supply and repair services for marine turbocharger and die ...
Read More...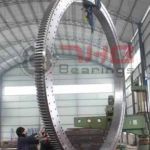 As the largest and heaviest slewing ring exported from China, the outer diameter is over 6000mm and the weight is over 13 metric tons.   The structure is triple row cylindrical roller type with external gear.   In order to have the best and stab ...
Read More...

Malins Marine established since 1997, has grown to become a leading provider of one stop solutions for navigation and communication system in China. With our head office in Shanghai, we are able to be a full service provider and our team of highly compet ...
Read More...

Marine Corrosion Service (MCS) is a company providing Marine Cathodic Protection solutions and services in China, we have an expert engineering team, who is available for the marine ICCP anti-corrosion system & MGPS anti-fouling system.We are the ONE- ...
Read More...
Malins Marine Service Co. Ltd. Locate Shanghai City. Our product is navigation and communication equipment ,including: marine radar,gyrocompass,autopilot,satcom-b/m/c/f,GMDSS,etc... Our service: 1,installation 2,repair 3,maintenance 4,commission Maker of ...
Read More...

Shanghai, Pujiang Minhang, China
We specialize in manufacturing chemical resistant and anti-slip FRP gratings.
Read More...

Worldwide ship spare parts and marine equipment supplier. Agency of China's giant ship yards for dock repair. Nationwide engineer and welder teams for urgent/voyage repair. Exporter of chinese quality electro-mechanical products.
Read More...