SAM Electronics

Tototheo Maritime was founded in 1978 by Mr. Totos Theodossiou with the purpose of installing, maintaining and operating maritime radio stations. We supply, service, integrate and install high-quality sophisticated on-board electronic equipment. Our cust ...
Read More...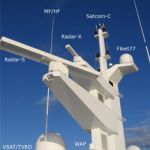 SAM Electronics Nederland B.V. offers comprehensive products and services through to the complete fitting of a ship with all its electrical and electronic installations, systems and components. We consider ourselves a partner to the shipbuilding industry ...
Read More...

Quality Marine Services was the sales and service agent for C.Plath Navigation during the mid-nineties.  After several M&A, C.Plath Navigation has been fully absorbed into the Northrop Grumman Group and is now part of Sperry Marine. QMS remains a ...
Read More...