MITSUBISHI

Adams Hydraulics is a company, which is active in the field of supply, as well as the Repair and Inspection of Hydraulic Systems (low and high pressure) for marine use. Our company is renowned for its large stock from well established companies of Hydrau ...
Read More...

"MONDIAL TECHNICS"  ESTABLISHED 1990, BASED AT PIRAEUS AND ACTING AS AGENT OF COMPANY'S WHICH CAN PRODUCE  AND SUPPLY MAIN AND AUXILIARY MACHINE PARTS AND SHIP EQUIPMENT. WE HAVE 26 YEARS EXPERIENCE AND THE GOOD QUALITY WITH THE COMPETITIVE PRI ...
Read More...

Exclusive Distributor of SOTECO INTERNATIONAL Spare parts for Alfa Laval/ Westfalia/ Mitsubishi Fuel oil, Diesel oil and Lub. oil Separators, Heat Exchanger Gaskets, Heat Exchanger Plates, IMO Pumps' spare parts NIREX Fresh Water Genera ...
Read More...

KYROS MARITIME " company is specified in selling alternative marine spare parts of all the major manufacturers , such as ALFA LAVAL , WESTFALIA , MITSUBISHI , DAIHATSU , YANMAR , HATLAPA , FUKUSHIMA . We can provide you with top quality alternative spare ...
Read More...
Ship Spares Suppliers, Manufacturers and traders in spare parts for medium and high-powered diesel engines for the marine industry
Read More...
Chittagong, Chittagong, Bangladesh
Ship breaking yard based second hand and reconditioned ship spare parts and equipment exporter/supplier with greater concern on quality. Maven is designed as one stop source for all kind of second hand ships equipment and spare parts from the range of two ...
Read More...

PHOENIX LTD is a Greek owned company which has been in spare parts business since 1975. PHOENIX LTD exclusively represents International Shipping And Industrial Services S.A. in U.S.A. & International Shipping And Industrial Services S.A. LTD in HONG ...
Read More...

Kenner-New Orleans, LA, United States
Gulf States Marine Technical Bureau, Inc. is owned and operated by a professional marine engineer. We employ people with extensive expertise in any type of repairs such as steel work, engine repairs, electric motor rewinding to take place aboard a vessel ...
Read More...

24 hour 7 days a week replenishment of container refrigeration related spare parts and refrigerant. Part management software. A/C and generator set parts. ReeferParts has been servicing the transport refrigeration industry for more than a decade and is t ...
Read More...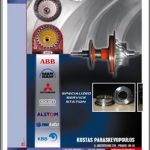 TURBOMARE's services include a wide range  of activities such as turbocharger overhauling and inspection, reblading of rotors, dynamic balancing, retro-fit, ultrasonic inspection, reconditioning of bearings and pumps and spare parts supply and replac ...
Read More...

Ships spares supliers.General representative of Deutz AG in Greece responsible for sale of Deutz diesel engines spare parts and service.
Read More...

Company's services include : Ship's Agency at Panama Canal all ports of Egypt, Inspection & Maintenance of Life boats/Davits, Fall Preventing Devices (FPDs) supply, Anqing Daihatsu 5DK-20 parts supply,  protection from Pi ...
Read More...

REZA ENTERPRISE is a ship recycling associated company engaged in the Marine field on the west coast of India. The company is the stockiest and supplier of marine spares & equipment to ship Owners, Ship Managers and industries.The Range of activities ...
Read More...