DANFOS

Adams Hydraulics is a company, which is active in the field of supply, as well as the Repair and Inspection of Hydraulic Systems (low and high pressure) for marine use. Our company is renowned for its large stock from well established companies of Hydrau ...
Read More...
The company I. CHRISTOFORAKIS C.O. with the tactful title PSYCTOTECHNIKI, based in Piraeus is activated from 2007. Our company is activated in industrial marine refrigeration and air condition. We provide our services all over the world by experienced te ...
Read More...

Repairs and installations of refrigeration and air conditioning systems. Rebuilding refrigeration compressors. Manufacturers of Package A/C units for control rooms. Our company KLIMAFROST LTD is certificated by ISO 9002 from ABS, was created after a succ ...
Read More...

Refrigeration and A/C Heating, VLT Drives Solar Energy, High-Pressure Systems, Industrial Automation, Water Controls.
Read More...

We are based in Greece and hold more than 40 years' experience on trade and repair of high pressure hydraulic units.We keep the largest stock in Greece of new and reconditioned pumps & motors from Japanese and European Makers such us: FUKUSHIMA, MITS ...
Read More...

We are a comercial and technical company, dealing with measuring and control equipment and automation. Our company established in Piraeus, where we run a sales store and a fully equipped service station. Our activities, cover the section of level, flow, t ...
Read More...
Hydraulic specialists for Shipping and offshoreAt Specken Hydraulics we specialise in the repair, maintenance and design of hydraulic systems and its associated electrical systems for the maritime and offshore market. Our team have both the experience and ...
Read More...

Morfi Hydraulics is a company which focuses on the area of industrial and marine hydraulics providing our customers with a wide range of services and spares.. Our company is active in plumbing repairs and spare parts business from 1985 and we are located ...
Read More...

We are dealing with electrical equipment for marine and industry worldwide. We have partners in the USA, Finland, Denmark, Norway and South America.
Read More...

Our company as one of the main wholesalers to electrical stores and material industry for 55 years has the experience and expertise that has the appropriate stock.Both our shops which are in the port of piraeus allows us to deliver the paste and Greek con ...
Read More...

Belko Automation & Sensors was established in 1990 and is based in Piraeus, Greece. Since its foundation, the company has focused on building entrusted relations with its partners (Shipping Companies, Electrical Retailers, Ship Supplies, Industry). B ...
Read More...

Our company has had a continuous presence in the field of hydraulic high pressure systems since 1965. Our long history with its resulting experience places us at the forefront of the industry and fills us with responsibility for the future.In our premises ...
Read More...

PSYCTOTHERM founded in 1969, specialized in the field of Marine Refrigeration and Air Conditioning installations & trade. In 1990 the company starts the commercial activities by the exclusive representative of the firms.
Read More...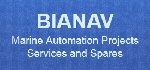 BIANAV has the capacity to analyze and solve problems and projects such complex that competition is leaving behind. BIANAV is using scientific analysis and experimentation in order to accumulate, develop and apply technological knowhow in MARINE AUTOMATIO ...
Read More...