CUMMINS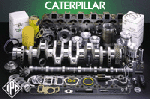 Representatives & Distributors. INTERTRADE LTD is a servicing to international shipping. In cooperation with makers and dealers in Europe and U.S.A. we procure original spare parts for diesel engines DEUTZ (KHD), MWM, STORK, MaK, CATERPILLAR, CUMMINS ...
Read More...

Norwalk, CT 06855, United States of America
We are representing several manufacturers from the Top Ship building nation of Korea. We are also representing countless manufacturers from around the world for various commodities including: Compressors / Pumps / Radio and Communications / Air Coolers & ...
Read More...
Chittagong, Chittagong, Bangladesh
Ship breaking yard based second hand and reconditioned ship spare parts and equipment exporter/supplier with greater concern on quality. Maven is designed as one stop source for all kind of second hand ships equipment and spare parts from the range of two ...
Read More...

Official distributors of spare parts. Hitachi, Linde, Ausa, Cummins
Read More...

ERAM MARINE " as the vendor of all types of marine engine spare parts regarding the engines , pumps, auxiliary engines spare parts, all type of turbo chargers (ABB, BBC, Napier, Veb, Man-B&W, Mitsubishi,) Hydraulic Motors and Pumps, Centrifugal Oil ...
Read More...