Search results for keyword: KBB_Sales_Distributors
Hide map

Exhaust-gas turbochargers from KBBWhether individual exhaust-gas turbocharger design, in-house manufacturing made in Germany or KBB's full range of services with its far-reaching service network: we stick to our word.
Read More...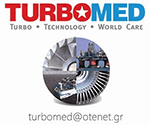 Turbomed is active in the field of turbocharger services and spare parts supply. Based at Piraeus in a 5400sq.m state of the art workshop at Schisto repair zone, it is able to cover any turbocharger need for ABB, NAPIER, MET, KBB, MAN Turbochargers. With ...
Read More...

Owner-operated business Wenzel Marine has been specialising in this area since 1991 and is able to process more than 70% of its customer orders from its on-site warehouse in Brinkum, near Bremen. Our main business is the supply of genuine and non-genuine ...
Read More...
Ship repairs and services. Overhaul and servicing all types of turbochargers reconditioning of T/C bearings and lub oil pumps dynamic balancing of rotors turbine blades compleete range of spares for all major T/C types available on exchange basis. Authori ...
Read More...

Dalwin Marine is a well established ISO 9001:2008 certified organization dealing in service, repair and spare parts of turbochargers of marine and land based power plants worldwide having global network at Singapore, UAE, India, Bangladesh, USA, UK, Panam ...
Read More...