Lithuania

NEPTUNE SERVICES UAB is an affiliate of NEPTUNE TECHNICAL AGENCIES Ltd a company which commenced its activities on 1992 by marketing exclusively the Polish Ship Repair Yard RADUNIA S.A., in the Greek and Cyprus Shipping Markets. Contracted repairs and co ...
Read More...

Lifesaving appliances and firefighting equipment services:Firefighting system and equipment; Breathing apparatus and EEBD's;Immersion suits, chemical suits, lifejackets; Air and foam analysis.Accommodation ladders and Gangways service.Lifting appliances:C ...
Read More...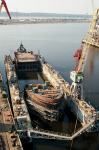 - Ship technical survey, all type ship repair and conversion;- Hull works, carbon steel and aluminum constructions;- Any pype works, hot galvanization, thorough valve examination, adjustment;- Grit / sand / hydro blasting and all kind of
Read More...

JSC "Baltijos pervežimai" / Baltic Shipping is one of the leading companies in the Baltic States in the area of shipping and cargo forwarding. The company is a member of several International organizations: BIMCO, Forwarders Association and Lithuanian ...
Read More...

Leading logistic solution provider in Lithuanian port of Klaipeda especially in sea, rail freight forwarding and shipping agency services. Our company is the member of Lithuanian Ships brokers and agents association as well as the members of FONASBA, memb ...
Read More...

Crew Manning.Licenced Crewing & manning company recruiting Lithuanian seafarers and riding squads for ship owners and/or ship managers/operators worldwide.
Read More...

Shipbuilders Shipyards
Read More...