GREECE-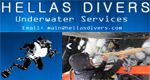 Divers underwater works. Divers Underwater works and repairs. Underwater searches cleaning and recoveries. Video inspection approved authorised by most Societies.
Read More...

GREECE-PIRAEUS
Tel:+30-210-4256980. Fax:+30-210-4252661
Manufacturers of high quality heating and cooling coils industrial fan coils evapoarators and condensersSince 1967.
Read More...

greece-athense-tictac-985736362
Software Solutions.Data Recovery Services in Greece Athens (Greek). Recover your files from disk failure Hard drive crash Pen Drives flash memory. Our Operations expand to Bulgaria Romania Albania Turkey Macedonia Kosovo and Serbia
Read More...

GREECE-PIRAEUS
Tel:+30-2104060000-4617423
Production of Aluminiun and Zinc Polcor sacrificial anodes and Impressed Currrent Systems for the Cathodic Protection of ships. Also oil & hazardous substances spill response. Waste management & valorisation.Bilge oil-water separators POSEIDON 2000 oil c ...
Read More...

Greece's paradise sunshine place.The beautiful landscape of Sithonia is a combination of mountain and sea.All about the area of sithonia in halkidiki
Read More...

GREECE-ATHENS
+ 30-210-9698200. Fax: +30-210-9698209
Ship's agents Niver Lines a traditional Greek shipping company is operating a weekly Full Container & Reefer service between Meditteranean & East Coast South American ports. Our service consists of a regular traffic from the East Coast South America to Me ...
Read More...

GREECE-ATHENS. Tel: +30-210 2817217. Fax: +30-210-2814277
Electronic Electric EquipmentVALIADIS S.A. is a manufactoring company of electric motors. The manufacturing program of the factory includes 3phase squirrel cage motors slip ring motors single phase motors motors with brake double speed motors Ex mot ...
Read More...

GREECE-THESSALONIKI
Tel:+30-2310424363.Fax:+30-2310424372
Surveyors & consultants. Company of loss adjusters located at Thessaloniki Greece serving the insurance industry and private companies on almost all types of loss adjusting -surveying
Read More...

GREECE-ATHENS
Tel:+3-210-7248756. Fax:+30-210-7242677
Representatives & Distributors Ultrasonic flaw detectors wall thickness gauges portable hardness testers crack depth gauges callipers external micrometers internal micrometers thermometers force torque gauges
Read More...

GREECE-ATHENS-ALIMOS
Tel:+30-2109858374. Fax:+30-2109884596
Yachts Yachting.Meandros - Yacht charters/sales/brokerage Make your holidays on the Greek islands exciting. Charter a crewed sailing yacht bareboat motor sailer motor yacht or join one of our organized cruises (flotilla).
Read More...

GREECE-PIRAEUS
Tel:+30-2104184555. Fax:+30-2104180639
Communication Navigation equipment. Distributors of :Trimble Leica Satlink Maritime Services Ltd. Galaxy Communications Ltd Service Agent of Skanti.
Read More...