Aspropyrgos

Ships Repairs & ServicesLocated in industrial area of Aspropyrgos. Full equipment for fabrication of all types of boilers & E.G.E tubes Main & Auxiliary boiler repairs and heat exchangers.
Read More...

DIANA RUBBER TECHNOLOGIES is a family owned industry originally founded in 1992 by John Fanourgakis after 35 years of service as technical manager in one of the biggest rubber Greek industries.Having long experience in rubber he resolved that the keystone ...
Read More...
Ship Spares Suppliers, Manufacturers and traders in spare parts for medium and high-powered diesel engines for the marine industry
Read More...

United Machineries Ltd. located in Piraeus Greece is one of the biggest stockist/suppliers in new reconditioned and overhauled spare parts for the marine world.
Read More...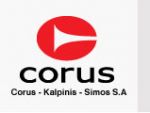 CORUS – KALPINIS – SIMOS S.A. is a pioneering company that brings together the many years of experience of ELASTRON S.A. with the innovation of TATA STEEL, the second largest steel producer in Europe with an annual production of approximately 20 milli ...
Read More...
BITROS STEEL S.A. arose from the absorption of the metallurgy branch of BITROS S.A. in 2000 and is now one of the largest  steel  stockholding, processing and distribution companies  in Greece and the whole of Europe. ...
Read More...

ELASTRON Group has evolved from the dynamic footprints of A. KALPINIS -N.SIMOS Group, and is a leader in the steel processing and resale industry in Greece. This position epitomizes the reward of the ceaseless efforts by all of us to manufacture products ...
Read More...

Our company provides our customers with integral solutions for marine accessories and life saving equipment.
Read More...

Marine lubricants, oils, refinery.
Read More...

Diesel Cat has many products and services available for ships such as deck and engine supplies, spare parts for the engine room, and services such as engine maintenance, repair, and any custom fabrication that may be required.
Read More...

ASPROPYRGOS, GREECETel: 30-2105580289. Fax: 30-2105579114
Marine Engines.Marine engines generator sets Daihatsu Pielstick MAN MTU Deutz Sulzer CAT Yanmar Wartsilla SKL Ruston MWM.
Read More...

MOTOR FILTERS CO. is one of the premier general filter supplying companies located in Greece. Since our foundation in 1998 we have developed a reputation for the distribution and supply of high quality filtration products.  
Read More...

International Forwarders.
Read More...