NEI

Leading supplier in the field of ship's spare parts and marine machinery equipment for 30 years.
Read More...

North Shields Tyne & Wear, ENGLAND UK
Specialising in the supply of spanner boiler & burner spare parts other marine boilers / burners spares available ffy igniter spares nozzles gauge glasses.Spanner boiler & supreme oil burner spares including all boiler mountings :SAFETY VALVES, PU ...
Read More...

I. ELECTRICAL § Electrical design § Electrical Installation (New buildings - Conversions) § Construction the main and Emergency swbds § Construction individual and team appetizer § Construction Panels lighting § Construction Switchboards § Construc ...
Read More...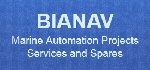 BIANAV has the capacity to analyze and solve problems and projects such complex that competition is leaving behind. BIANAV is using scientific analysis and experimentation in order to accumulate, develop and apply technological knowhow in MARINE AUTOMATIO ...
Read More...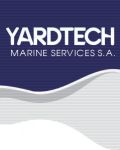 Shipyards' representives.
Read More...
ADM is one of the largest Electrical Engineering and Panel Manufacturing firms in South-East Europe. We specialize in the design, construction, installation, commissioning, and maintenance of integrated power, control, and automation systems. Our product ...
Read More...