KAWASAKI

We are based in Greece and hold more than 40 years' experience on trade and repair of high pressure hydraulic units.We keep the largest stock in Greece of new and reconditioned pumps & motors from Japanese and European Makers such us: FUKUSHIMA, MITS ...
Read More...

Service Hydro is an engineering company in Hydraulics/Pneumatics for design and construction of power units.We design, build and install complete power packs for industrial, mobile and marine applications with projects all over the world.
Read More...

We are official distributors for Kawasaki Precision Machinery UK Ltd. (manufacturer of Staffa hydraulic motors) in Greece. Our company specializes in the design and assembly of hydraulic systems for industrial and marine applications (mooring winches, win ...
Read More...

Morfi Hydraulics is a company which focuses on the area of industrial and marine hydraulics providing our customers with a wide range of services and spares.. Our company is active in plumbing repairs and spare parts business from 1985 and we are located ...
Read More...
Hydraulic specialists for Shipping and offshoreAt Specken Hydraulics we specialise in the repair, maintenance and design of hydraulic systems and its associated electrical systems for the maritime and offshore market. Our team have both the experience and ...
Read More...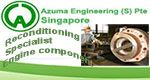 Qualified Recondition Repairer (ISO 9001:2000 since November 1998)Qualified marine diesel component repairer for:Piston crowns Cylinder covers Exhaust valve spindles Exhaust valve seats Exhaust housings etcCertified by:Our reconditioning and repairing tec ...
Read More...

KPM supplies quality hydraulic equipment for mobile, industrial, construction, marine, and many other engineering applications.We offer a pioneering range of Staffa motors, axial piston pumps, axial piston motors and mobile control valves. 
Read More...

Kenner-New Orleans, LA, United States
Gulf States Marine Technical Bureau, Inc. is owned and operated by a professional marine engineer. We employ people with extensive expertise in any type of repairs such as steel work, engine repairs, electric motor rewinding to take place aboard a vessel ...
Read More...