Emerson
The company I. CHRISTOFORAKIS C.O. with the tactful title PSYCTOTECHNIKI, based in Piraeus is activated from 2007. Our company is activated in industrial marine refrigeration and air condition. We provide our services all over the world by experienced te ...
Read More...

Emerson understands the importance of keeping your process running continuously regardless of the conditions. In order to meet this need, we utilize the latest design tools to ensure product functionality and implement rigorous testing practices to confir ...
Read More...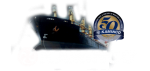 We offer Products, Engineering Services, Spare parts and Consultancy by the most reputable manufacturers in the world helping you run Safer, Greener, More Efficient Ships and Facilities Kaminco represents a worldwide support network, serving the Maritime ...
Read More...

SF-Control's is a company within Emerson Process Management. SF-Control Oy is an engineering company specialized in measurement and automation technology in the marine field.
Read More...