Akasaka
Chittagong, Chittagong, Bangladesh
Ship breaking yard based second hand and reconditioned ship spare parts and equipment exporter/supplier with greater concern on quality. Maven is designed as one stop source for all kind of second hand ships equipment and spare parts from the range of two ...
Read More...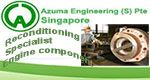 Qualified Recondition Repairer (ISO 9001:2000 since November 1998)Qualified marine diesel component repairer for:Piston crowns Cylinder covers Exhaust valve spindles Exhaust valve seats Exhaust housings etcCertified by:Our reconditioning and repairing tec ...
Read More...

Company's services include : Ship's Agency at Panama Canal all ports of Egypt, Inspection & Maintenance of Life boats/Davits, Fall Preventing Devices (FPDs) supply, Anqing Daihatsu 5DK-20 parts supply,  protection from Pi ...
Read More...