ABB

Ship Spares Suppliers Turbochargers spare parts. Complete available in our stock new or 2nd hand recondition.Complete units or parts as Turbines shafts and Blowers casings nozzle rings impellers oilpumps defusers for most types of marine turbochargers.Our ...
Read More...

We are one of the oldest and the largest supplier of new, and reconditioned electrical supply motors in the Greece and Europe.DEMOSMOTORS is an (Electric Motor Supply Company) located in Greece, has sellng new, and reconditioned electrical equip ...
Read More...

I. ELECTRICAL § Electrical design § Electrical Installation (New buildings - Conversions) § Construction the main and Emergency swbds § Construction individual and team appetizer § Construction Panels lighting § Construction Switchboards § Construc ...
Read More...
Chittagong, Chittagong, Bangladesh
Ship breaking yard based second hand and reconditioned ship spare parts and equipment exporter/supplier with greater concern on quality. Maven is designed as one stop source for all kind of second hand ships equipment and spare parts from the range of two ...
Read More...

It is a dynamic family business founded in 1955 by Elias and Eleni Tsoukatos and shortly after became the established supplier of electrical and explosion proof equipment for the shipping, manufacturing and construction industry.
Read More...

We are dealing with electrical equipment for marine and industry worldwide. We have partners in the USA, Finland, Denmark, Norway and South America.
Read More...

Our company as one of the main wholesalers to electrical stores and material industry for 55 years has the experience and expertise that has the appropriate stock.Both our shops which are in the port of piraeus allows us to deliver the paste and Greek con ...
Read More...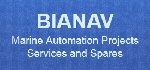 BIANAV has the capacity to analyze and solve problems and projects such complex that competition is leaving behind. BIANAV is using scientific analysis and experimentation in order to accumulate, develop and apply technological knowhow in MARINE AUTOMATIO ...
Read More...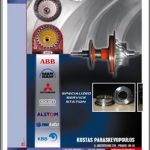 TURBOMARE's services include a wide range  of activities such as turbocharger overhauling and inspection, reblading of rotors, dynamic balancing, retro-fit, ultrasonic inspection, reconditioning of bearings and pumps and spare parts supply and replac ...
Read More...
ADM is one of the largest Electrical Engineering and Panel Manufacturing firms in South-East Europe. We specialize in the design, construction, installation, commissioning, and maintenance of integrated power, control, and automation systems. Our product ...
Read More...